Nutzen Sie unser Anfragetool für App Programmierung
Unser Anfrageformular führt Sie Schritt für Schritt durch die wichtigsten Fragen zu Ihrem Projekt und ermöglicht Ihnen so, schnell und einfach eine Preisanfrage an alle registrierten Entwickler zu stellen: zum Anfrageformular.
Celadon
Lazo 14, office 22
22020
Minsk
---
+375 29 618 27 75 - Alexey Falco

celadonsoft@gmail.com
---
Vom Entwickler unterstützte Betriebssysteme für App Entwicklung

Windows
---
Entwickler - Beschreibung
We create mobile and web apps for startups, businesses and all those who think differently.

What helps us to provide high quality, speed and cost efficiency of our work that meets modern market demands?
On the technical side, it's a strict focus on carefully selected modern technologies and frameworks.
On the business side, we consider our core values are openness, honesty, and commitment.
We don't strive to grab any deal that is available on the market, but we aim to build long lasting relationships with the clients we have. We don't overpromise, but we keep our word.
Passionate for challenging and innovative projects we're always looking for something worthy to work at.
(Entwickler ID | SCORE 40 | HITS 9 | GEO-TAG 0/0)
Referenzen von Celadon
| | |
| --- | --- |
| Kategorie | Unterhaltung |
| Betriebssysteme | iOS, Android |
| Beschreibung | EIEV is an endurance horse riding application that allows users to see timing data of upcoming/live/past races held in Emirates International Endurance Village in Al Wathba, Abu Dhabi. We at Celadon covered the project from start to end: UX/UI, prototyping, full cycle of development, publishing and support and maintenance. The requirement was to create an application that would process and represent the data in real time in a user-friendly and customizable way. Also, there were specific ways of data transferring, determined by the client's possibilities, and the project should have been built around it. The main challenge was a tight time restraint of the project due to the impo |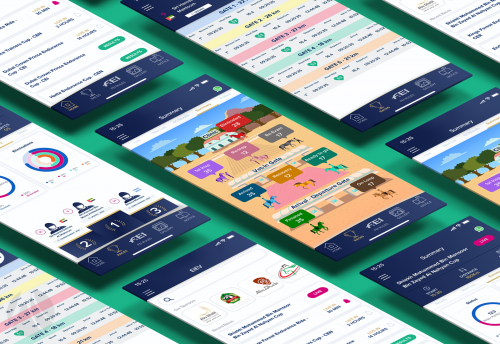 | | |
| --- | --- |
| Kategorie | Sport |
| Betriebssysteme | |
| Beschreibung | The app purpose is to connect football players around the region. We've done UX/UI and full cycle of development. Among app features - chat, advanced push notifications system, user generated content, arabic (RTL) localization. |
| | |
| --- | --- |
| Kategorie | Reisen |
| Betriebssysteme | iOS, Android |
| Beschreibung | User-friendly mobile application for iOS and Android, where the users can securely manage their documents, and apply for visas in a few clicks, that utilize third-party API heavily and have AI based smart offer feature. The mobile application with very smooth UX. A simple process of applying for a visa with minimum effort. We paid attention to secure the stored users' documents copies and other users' data. There are third party API's are being integrated from partner-network for travels tour booking. Smart offer feature – offers potentially interesting tours for the user based on the user's in app behaviour and history. |
| | |
| --- | --- |
| Kategorie | Bildung |
| Betriebssysteme | Web App |
| Beschreibung | Client has an idea of creating software to provide users with lessons helping them to understand core concepts of music theory. At first step it was MVP, but later on it became popular music theory learning tool: Utheory is music education web app for students and CMS for teachers. Project is live and is used by teachers from USA Top5 music universities. |
| | |
| --- | --- |
| Kategorie | Produktivität |
| Betriebssysteme | Web App |
| Beschreibung | Client's aim was to create viable prototype and test few assumptions on HR Software market. Inniovative AI enabled Employers Recruitmnet System. Started with prototype we continued this MVP as a full-scale project. |
---